HYDROSOLS
It is best to keep your bulk hydrosols refrigerated since they contain no preservatives. Please transfer your bulk hydrosol to a smaller working glass bottle which can be found here.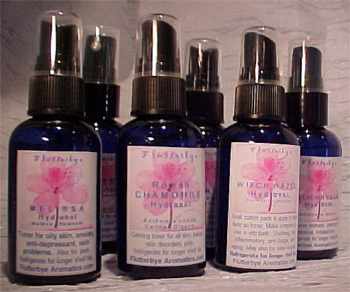 NOTE: These uses are appropriate for the hydrosols only, not the essential oils.
I thought you might be interested in why I like your products so much. I am a diabetic which leaves my skin very dry and I'm allergic to aftershave lotion. I use your hydrosols to moisten my facial skin after I shave in the morning. It not only feels good, but also leaves a very pleasant aroma without being overwhelming. I really like the Sandalwood hydrosol. It's been great finding your natural products. - David in Chicago

2 oz. ~ $11.00
4 oz. spritzer ~ $20.00
8 oz. ~ $38.00

Toner for oily or combination skin

Use as a rinse to condition and strengthen damaged hair, for dandruff and itchy scalps.

This is one of the hydrosols that will ease the discomfort of allergic rash, dermatitis, inflamed skin, measles, chicken pox, or other itchy skin disorders.

A good choice for men, the scent is quite outdoorsy and fresh.

See Pooch Page for use on both dogs and cats.

An essential hydrosol, I have used this more than any other during the last year. I'm just amazed at its quality and properties.

Anti-inflammatory, skin calming and somewhat astringent. Fantastic for most skin types, relaxing and calming for skin disorders including eczema, psoriasis, rosacea, burns, rash. Very, very nice and calming for babies and an excellent tush spritz during diaper changes.

Use as an internal eyewash for conjunctivitis, dry, tired, irritated or red eyes.

Use in a compress with a drop of lavender for migraines

Mix with Neroli hydrosol for acne and oily skin

Mix with Witch Hazel or Rose hydrosol for mature skin

Mix with Lavender or Geranium hydrosol for dry skin

Use for pets in the car, for trauma, stress, thunder phobia, vet visits, teething puppies, First Aid kit.

Very stable shelf life, refrigerated 3 years +, though I can't conceive of it not being used up before then!

Aromatherapists recommend Clary Sage for oily, mature, or inflammed skin, greasy hair, acne and dandruff, as it regulates sebum production and can prevent excessive sweating.

Also beneficial for treating anxiety, stress, nervous tension, and depression.

I've made a nice body spritzer for a client with anxiety and asthma needs composed of clary sage hydrosol, clary sage essential oil, lavenders and citruses.

Nice when added to water or tea for a refreshing drink.

Most well known for treating PMS and menopause (cramps, bloating, water retention, etc.)

One more recommendation: Gargle with this hydrosol to soothe and heal a sore throat.
CORNFLOWER
Centaurea cyanus
organic, France

Flip Top:

2 oz. ~ $11.00
4 oz. ~ $20.00

Atomizer:

2 oz. ~ $11.00
4 oz. ~ $20.00

Eye dropper ~ 0.50



Cornflower hydrosol provides a natural remedy for swollen or itchy eyes, as a compress for a stye or conjunctivitis.

Excellent toner for dry, delicate or mature skin.

An excellent compress for bruises.

Wonderful for baby's skin.

CYPRESS

Cupressus sempervirens

- organic, France

2 oz. ~ $11.00
4 oz. spritzer ~ $20.00
8 oz. ~ $38.00

Promotes healthy circulation – use in a compress for varicose veins
Eases muscle spasms
Antibacterial
Asthma – lung opening in minor asthma attack
Emotionally calming
Wound care: reduces pain & inflammation, soothes burns, bug bites, hives, allergies
Aftershave

2 oz. ~ $11.00
4 oz. spritzer ~ $20.00
8 oz. ~ $38.00

Excellent for the cold & flu season, and is particularly useful for sensitive patients as it is not as strongly scented as the essential oil:

Eucalyptus hydrosol is an effective aid for lung and respiratory issues: it is antitussive (prevents / reduces coughing), expectorant (promotes discharge of mucus from respiratory tract), and bronchodilatory (opens airways in lungs by relaxing the smooth muscles).
It makes a very soothing and cooling compress for relieving chest congestion and coughs.
It is antimicrobial, effectively reducing bacteria, viruses, and fungi from surfaces and from the air.
This hydrosol makes an excellent room spray to promote a clean, healthy respiratory environment.
Emotionally and energetically, it clears, uplifts, encourages mental clarity, and helps soothe exhaustion.
It is said to be helpful in reducing patterns of negative thinking and can bring clarity and increased vitality, especially during particularly challenging times.

FRANKINCENSE
Boswellia carteri
Somalia

2 oz. spritzer ~ $15.00
2 oz. flip-top ~ $15.00
4 oz. spritzer ~ $25.00
4 oz. flip-top ~ $25.00
8 oz. ~ $47.00
16 oz. ~ $79.00
32 oz. ~ $150.00


Use as a marvelous toner for Mature skin -- to refine skin texture, add anti-aging and anti-wrinkle properties. Add to weekly clay mask.

As with the essential oil, frankincense hydrosol is useful for infections, sores, and mouth disorders. The hydrosol is a milder and more versatile solution for mouth problems, including sore throat (gargle), gum infections, inflammation. Make a blend with Helichrysum hydrosol if desired.

I've been using this for years as a linen/room spray when I need an extra touch of meditative calming. Lovely.

HELICHRYSUM Helichrysum italicum

Certified Organic, Corsica

2 oz. ~ $12.00
4 oz. ~ $23.00
8 oz. ~ $41.00
16 oz. ~ $79.00

This hydrosol is wonderfully gentle for sensitive and mature skin, and an amazing toner for rosacea, psoriasis, and eczema as well. Some like the scent, some don't. Those that don't, mix it with another hydrosol.

The properties of this hydrosol make it one of the most desirable. The essential oil of Helichrysum is quite expensive but essential for bruises. The hydrosol is also effective when used in a compress on bruises or on achy areas, and more affordable.

Anti-inflammatory, analgesic, use after surgery for wounds and tissue damage, reduces swelling and bruising. Use as a mouthwash for receding gums.

It's often hard to keep this hydrosol in stock, we generally run out of it off-season. It has a very stable shelf life and should keep in the fridge for 2 years or more so you may want to have extra on hand.

Lavendula angustifolia
USA, Organic

2 oz. ~ $11.00
4 oz. ~ $20.00
8 oz. ~ $38.00

Don't expect Lavender hydrosol to smell exactly like lavender essential oil; the hydrosol is a deeper, stronger scent than the oil.

Lavender hydrosol is gentle and balances pH, which makes it ideal as a toner for every skin type on a regular basis and a perfect addition to all face masks. Highly recommended for fragile or damaged skin and soothing for a sunburn. Make a compress for headaches, stress.

Relaxing and revitalizing, lavender hydrosol reduces mental fatigue, it's also nice for calming babies and for diaper maintenance.

Skin types: Oily, dry and mature. Combines well with other hydrosols

Cornflower and Lavender hydrosols make wonderful soothing eye compresses. Chill the hydrosol, soak cotton pads, cover eyes, sit back with your feet up, and relax.

Read more about Lavender Hydrosol

2 oz. ~ $11.00
4 oz. spritzer ~ $20.00
8 oz. ~ $38.00

Stress relief
Calming for insomnia, anxiety, nervous fatigue
Clarifying, hydrating, revitalizing, pore reducing, balancing facial toner for all skin types
Calms skin with antimicrobial and anti-inflammatory properties after shaving
A natural mouthwash due to its antibacterial and anti-inflammatory properties
Nice aromatic and calming room or body spray or as the water component in diffusing

Melissa officinalis (lemon balm) USA, Organic

Melissa essential oil is very, very expensive. Luckily, we have the hydrosol. The hydrosol smells nice, lemony like the herb itself (lemon balm).

Useful for anxiety, insomnia, respiratory complaints, nausea, indigestion, nervous tension. Calms the skin, is anti-inflammatory and anti-oxidant. Calms rashes, irritations, eczema and other skin problems. Uplifting and anti-depressant, calming and relaxing. Melissa is known for healing herpes, and is anti-viral, anti-fungal.

Skin types: acne, oily, babies, pregnant

Myrtus Communis
Corsica France, Steam distilled, wildcrafted, organic.

2 oz. spritzer ~ $13.00
4oz. spritzer ~ $23.00
8 oz. bulk ~ $45.00
16 oz. bulk ~ $79.00

Myrtle hydrosol is a wonderful eyewash for tired, swollen or irritated eyes. It is unique in its ability to counter inflammation, redness, Dry Eye Syndrome and other disorders of the eyes from many causes: allergies, pink eye, conjunctivitis. If you are using commercial eye drops, check the ingredient list, most contain ingredients that are harsh and even potentially toxic and contain warnings for long-term use. Myrtle hydrosol is the pure, natural solution. Safe for all ages and pets as well as long-term daily use. Use as often as you like.

Myrtle hydrosol is also a fine toner for all skin types. Keep it in the fridge and when you come home tired, spritz it all over your face, neck, arms, eyes for a refreshing boost with skin care benefits!

Stable shelf life 1.5 to 2 years, keep refrigerated for best results or make a small working bottle and refrig the bulk size. If you're a Myrtle fan, please consider stocking the amount you'll need for 9 to 12 months as this hydrosol typically sells out months before the next distillation, it is definitely the MOST POPULAR hydrosol and I hate to have to say it is out of stock, but it is often!

All Flutterbye hydrosols are distilled from organically grown plants. Cold storage prior to shipping. Shipped in plastic or lined aluminum for economical shipping, may be left as is or transferred to glass bottle, your preference. Smaller sizes have a spray top. Larger sizes have a plain top and may come in a compression pour pouch, email me if you have a preference.

(ORANGE BLOSSOM)
Citrus aurantium
organic, Moracco

2 oz. ~ $11.00
4 oz. ~ $20.00
8 oz. ~ $38.00
16 oz. ~ $74.00

Sweetly floral, fruity and fragrant, this is one of our most popular hydrosols. It's calming, refreshing, and uplifting. It's often used as a room spray and as a calming spray for pets prior to grooming or vet trips. Neroli hydrosol is our most requested facial toner, along with Rose hydrosol, and many customers mix them together.

Great for plane trips, crying babies and agitated children. Antispasmodic, antibacterial, antifungal

Very stable shelf life, 3 years refrigerated.

Skin types: Delicate, sensitive, oily, acne

Blend with Rose, lavender and geranium for dry and mature skins.

Mentha piperita
organic, India

Yummy fresh herb scent, minty. Spritz on face to refresh during hot weather, or for stimulation during a sluggish afternoon. Excellent mouthwash and breath freshener.

Good spray for hot flashes, insect bites, stings, spray inside the car for alertness and to prevent motion sickness, add to drinks for nausea.

Concentration aid when working or studying, calms the nerves while stimulating the brain. Anti-inflammatory, compress for allergic reactions.

Relatively short shelf life compared to other hydrosols, this one is replaced frequently and the old is used in the bath.

Skin types: Acne, oily, itchy, pregnant

Rosa damascena
Bulgaria

2 oz. ~ $11.00
4 oz. ~ $20.00
8 oz. ~ $38.00
16 oz. ~ $74.00

BEST SELLER!

Ah! True Rose Hydrosol is the best smelling hydrosol, just like a rose garden! Definitely not like the many imitation rose waters that are being produced today.

Use this hydrosol for everything -- it's balancing, uplifting, calming, cooling, rejuvenating, and makes a very pleasant perfume alternative.

Good for hot flashes, PMS, mood swings, menopausal symptoms. Rose hydrosol eases nervousness, anxiety, and mental strain. Antibacterial, calming, good for First Aid.

Mix with Lavender and Chamomile hydrosols for a perfect all-purpose take-along remedy.

Moisturizing, Rose hydrosol is wonderful for normal, dry, mature, sensitive, and dehydrated skin. Balancing, it controls sebum production so is helpful for both dry and oily skin. Helps tighten pores. Gentle on acne and skin disorders. Excellent in facial masks and when combined with other hydrosols, especially those that need scent improvement.

A very stable shelf life, lasts refrigerated at least 2 years

All skin types

ROSEMARY

Rosmarinus officinalis

organic, France

2 oz. ~ $ 11.00
4 oz. ~ $20.00
8 oz. ~ $38.00
16 oz. ~ $59.00

This is the miracle hydrosol for hair health. Use it to:

pH balance your hair, closing the hair shaft cuticles encourage healthy, shiny hair help repair split ends stimulate hair growth; helps control dandruff or seborrhea
Used internally (add 1 tbsp. to your day's worth of water) it stimulates the liver and gall bladder and aids in digestion of fatty foods
takes the place of coffee as a mental and physical stimulant
helps combat chest tightness and breathing difficulties during allergy season
is a powerful antioxidant, detoxifies
is diuretic

Topically (in a compress), it provides relief for arthritis, gout and rheumatism

Santalum album
organic, India

2 oz. spritzer ~ $15.00
2 oz. flip-top ~ $15.00
4 oz. spritzer ~ $25.00
4 oz. flip-top ~ $25.00
8 oz. ~ $47.00
16 oz. ~ $79.00
32 oz. ~ $150.00


This is an exceptional hydrosol for skin care. It's my favorite. I use it alone, or mixed with Rose hydrosol. Use as a toner or as a compress for skin disorders, rosacea, eczema, psoriasis, and for delicate and mature skin. Anti-inflammatory, balancing and calming, makes a nice aftershave spritz.

A very stable shelf life, lasts refrigerated at least 2 years.

All skin types

TEA TREE Melaleuca alternifolia

organic, Australia

2 oz. spritzer ~ $13.00
4 oz. spritzer ~ $23.00
8 oz. bulk ~ $45.00
16 oz. bulk ~ $79.00

The scent is slightly herbal and slightly medicinal, which is okay, because it's probably the best hydrosol to use for first aid and general wound care.

Antiseptic, anti-fungal, antibacterial, antiviral; this one does it all. Cleans cuts, scrapes, wounds; use with lavender for children's boo-boo; quick response for skin infections, use immediately for dog bite.

Excellent for skin disorders, including psoriasis, eczema, rash. Gentle enough to use for babies, yeast infection, deodorant spray, foot spray. The first choice for a dog or cat's hot spot or skin rash, prevents staph infection which is so easily spread with a pet's dirty toenails.

An essential for First Aid

Skin type: Facial Toner for acne, oily, problem complexions

(Please do not use essential oils on cats, use hydrosols instead)

Vetiveria zizanoides
India

2 oz. spritzer ~ $15.00
2 oz. flip-top ~ $15.00
4 oz. spritzer ~ $25.00
4 oz. flip-top ~ $25.00
8 oz. ~ $47.00
16 oz. ~ $79.00
32 oz. ~ $150.00


Promotes tranquility, emotional grounding, useful for meditation. The grounding quality further assists with preventing mood swings that can occur as a result of hormonal fluctuations. These qualities make Vetiver hydrosol ideal for the relief of stress and anxiety. Combine with Clary Sage hydrosol for regulating the production of estrogen and progesterone which can alleviate the symptoms of both PMS and menopause.

Cooling to the skin, reducing inflammation, redness and itching. Fantastic for mature skin, a dry environment, and especially indoor air in winter.

Blend with Frankincense Hydrosol to increase anti-aging and anti-wrinkle effects.

The scent is a little earthy and is enjoyed by both men and women.

One of nature's best astringents, there is probably no better tonic or toner for skin care than Witch Hazel Hydrosol.

Heals cracked or blistered skin and is extremely good for soothing eczema and psoriasis, alone or combined with Yarrow Hydrosol.

Reduces redness, rashes, itching, swelling and scaling of skin.

Also useful after shaving as it provides mildly styptic properties and helps reduce razor burn and swelling through its cooling and soothing properties.

Witch Hazel hydrosol can be used as a facial toner after cleansing.

It is particularly beneficial for oily and problem skin as it provides a gentle yet effective alternative to commercial acne products.

For acne skin, use in combination with Healing Face Soap and Facial Oil for Acne Skin.

Avoid commercial Witch hazel as it contains a high percentage of alcohol and preservatives which can irritate skin. This pure Witch Hazel is alcohol-free and is quite beneficial to the skin. Witch Hazel possesses antibacterial and anti-inflammatory benefits to acne prone skin. It also tightens skin naturally and gently.

Achille millefolium
organic, Bulgaria

Toner for acne, problem skin, dermal infections, healing for sunburn; cooling, helps reduce fever, aches and pains of flu/colds; antiseptic, antispasmodic for digestive, reproductive and muscular systems, use topically or internally. Very effective used on pets.

Cananga odorata
Madagascar

2 oz. ~ $11.00
4 oz. ~ $20.00
8 oz. ~ $38.00
16 oz. ~ $74.00

Ylang hydrosol is the perfect facial toner for those with combination type skin. Ylang hydrosol is balancing and is the perfect primer before using Facial Oil: Balancing.

Ylang Ylang happens to be my very favorite scent, so I use this hydrosol as a relaxing spray around my bedroom. It is deeply floral and uplifting to release stress and calm the nervous system.

Ylang hydrosol is great for all ages, even very young children, cats and dogs.
---
Our facial treatment HYDROSOL BLENDS are concentrated aroma-therapeutic blends. They are combinations of pure hydrosols with added essential oils developed for specific skin needs. Some include Aloe Vera Gel.
Use in the morning & evening after cleansing the skin. Soak a cotton pad and gently dab over your face and neck. Follow with moisturizer or Facial Oil.
A crucial step in skin care treatment to tone the skin & assist absorption of our facial preparations. You will see a difference within just a few days or weeks.
Simone, your Face Treatment Hydrosol Blends have made all the difference in my skin. I live in the desert and use the Moisturizing Blend twice a day. It is so soothing and helps your

Light Moisturizer

keep my skin supple! Recently, during an extended stay in Florida I used the Acne Blend, and I've also used the Balancing Blend. I love them all; your blends smell amazing, and are so fresh and pure, and really calm my skin. I've used all kinds of other toners before finding your hydrosol blends and now everything else I've used feels like putting detergent on my face, compared to your creations. Devoted for life.

Beth in Taos, NM
Contains a proprietary blend of pure hydrosols and ssential oils specifically designed to treat teenage and adult acne.

Best results are seen with consistent use.

Recommended products:

Healing Face Soap
Facial Oil for Acne Skin

Apply with Silky Cotton Pads.

Antiseptic (removes bacteria which collects in blocked pores) Anti-inflammatory (reduces painful irritation and swelling) Astringent (helps control the oiliness) Balancing (helps normalize oil production, improves skin condition)

1 oz. ~ $ 7.00
2 oz. ~ $13.50
4 oz. ~ $25.00
8 oz. ~ $44.00
16 oz. ~ $84.00

Contains a proprietary blend of pure hydrosols, essential oils, and aloe vera designed to balance both dry and oily skin types.

Perfect for over-abused skin. Tones and rejuvenates

Recommended Products:

Olive Oil Soap
Facial Oil for Combination Skin

Apply with silky-cotton-pads.

8 oz. ~ $38.00


Prior consultation #1

1 oz. ~ $ 7.00
2 oz. ~ $13.50
4 oz. ~ $25.00
8 oz. ~ $44.00
16 oz. ~ $84.00

with select hydrosols and natural plant extracts, aloe vera (green tea, white tea, edelweiss, and more)

[you will never find phenoxyethanol or parabens in any Flutterbye product]

As an incredibly strong antioxidant with more potency than even vitamin C, EDELWEISS EXTRACT targets many complex issues for every complexion. Whatever type of skin you have, you will benefit from this amazing booster ingredient.

Dry skin
Oily skin
Mature skin
Aging skin
Damaged skin
Normal skin
Sensitive skin

EDELWEISS ANTIOXIDANT HYDROSOL BLEND includes a selection of hydrosols with properties to target your skin's needs:

balances skin ph
anti-inflammatory, soothing
pore tightening
anti-aging, anti-wrinkle
gently exfoliates

Edelweiss Extract is a naturally derived plant botanical with these properties:

a potent antioxidant with twice the free radical scavenging power of Vitamin C
one of the best natural anti-aging ingredients on the market
delivers beneficial hydration to treat your complexion to a moisture surge for a youthful appearance
increases the skin's plumpness and
enables the skin to build its own resiliency against dryness

Refrigeration recommended for extended shelf life and because it feels divine, but not required.

1 oz. ~ $ 7.00
2 oz. ~ $13.50
4 oz. ~ $25.00
8 oz. ~ $44.00
16 oz. ~ $84.00

Contains a proprietary blend of pure hydrosol, essential oils, and aloe vera designed to soothe, revitalize and moisturize rough, dry, and sun-damaged skin

Recommended products:

Goatmilk Soap,
Facial Oil for Dry Skin

Apply with silky-cotton-pads.

NINA'S HYDROSOL

1 oz. ~ $ 7.00
2 oz. ~ $13.50
4 oz. ~ $25.00
8 oz. ~ $44.00
16 oz. ~ $84.00

Contains a proprietary blend of the most select pue hdrosols and precious essential oils designed for Mature skin types.

Tones, soothes, revitalizes; moisturizing to dry and mature skin.

This is my personal blend that I designed to pamper my own skin. I selected the finest ingredients for this product, as it is one of my little daily pleasures to inhale this gorgeous scent and reap the benefits from using exquisite essential oils of rose otto, roman chamomile, neroli ... a most luxurious combination!

You won't be disappointed in this, I promise, and it smells heavenly :)

Recommended products:

Honeybee Soap
Facial Oil for Mature Skin
Carrot Soap

Apply with silky-cotton-pads.

ROSACEA HYDROSOL

1 oz. ~ $ 7.00
2 oz. ~ $13.50
4 oz. ~ $25.00
8 oz. ~ $44.00
16 oz. ~ $84.00

Contains a proprietary blend of pure hydrosols and essntial oils designed to treat rosacea, psoriasis, eczema, and other skin disorders or irritations.

Reduces inflammation, redness, itchiness, splotches, cools the skin.

Recommended products:

Facial Oil for Rosacea


Apply with silky-cotton-pads.
---
A powerful but gentle solution to the skin's needs after being ripped apart! Soothing, calming, and refreshing. Contains sandalwood, cedarwood, lavender, witch hazel hydrosols, aloe vera, and Vitamin E.

1 oz. ~ $ 7.00
2 oz. ~ $13.50
4 oz. ~ $25.00
8 oz. ~ $46.00
16 oz. ~ $84.00

A blend of hydrosols containing super antiviral properties, including thyme, melissa, ravensara ...

Particularly useful as a hand spray when out with the children. Can also be used in any way mentioned above for hydrosol uses.

An all-natural product for all ages -- use without concern.

Many school children are getting rashes from using commercial antibacterial sprays and handwashes provided by the schools.

2 oz. ~ $14.00
4 oz. ~ $25.00
8 oz. ~ $44.00
16 oz. ~ $84.00

Contains specific hydrosols that are anti-inflammatory antiviral, antifungal, and antibacterial. Also contains Aloe Vera which is analgesic.

Reduces redness, heals rashes, itching, swelling, cleans the skin. Spritz on skin after every diaper change.

Recommended products:

Baby Cakes
Baby Neem Soap
Baby Balm
Baby Lotion Bar

1 oz. ~ $ 7.00
2 oz. ~ $13.50
4 oz. ~ $25.00
8 oz. ~ $46.00
16 oz. ~ $84.00

Contains rare hydrosols and essential oils that target the need of mature women. This is a spritz to use on your face, neck, arms, and the back of the neck. Bonus: it is also great for the skin, and will leave your face dewy soft.

Recommended products:

Hot Flash Therapeutic Roll On
Hot Flash Body/Massage Oil

Oregano is the most potent antiviral, but is quite strong tasting so I've combined it with more palatable but highly antiviral/antibacterial hydrosols: Peppermint, Melissa, and Lavender.

To use: Spray or swish in mouth, spit out or swallow.

This makes a great every day mouthwash. Both preventive and healing.

1 oz. ~ $ 7.00
2 oz. ~ $13.50
4 oz. ~ $25.00
8 oz. ~ $44.00
16 oz. ~ $84.00

Contains select hydrosols and essential oils targeted to treat skin that is being treated with heat, to heal burned or radiated skin, and to prevent inflammation and infection. Spritz skin several times a day.

This customer favorite blend is soothing and moisturizing to irritated skin, especially SUNBURNed skin ! The hydrosols in this blend will tame the burn and itching that often accompanies skin disorders or irritations.
All organic hydrosols, perfect for adults, children, babies and pets.
All bulk hydrosols should be refrigerated; your working bottle will be fine at room temp for a month or so.
---

$9.95 ~

These soft, silky, 100% pure cotton disposable pads are great for everyone. You'll love that they're lint and residue free and are ideal for use with your toner after cleansing your face to gently remove cleanser residue and pore impurities. You'll use less toner than you do with traditional cotton pads, so your toner will last longer. And there are no binders or chemicals in the interlocking fibers of this pure material, no potential irritants to sensitive skin. Excellent for acne and rosacea skin types too.
Easy to gently tear each of the 4"x4" squares into fourths (bag of 100), they're quite large and last a long time when used this way. Or just use them as is, and turn them over and inside out as they're used. You'll absolutely love them, I promise!
I've also used them for cleaning my eyeglasses, computer screen, and TV with no worry of scratching. I really love to use them when I make my homemade Hand Wipes